New AMI Instructor: Zhivko Nikolov – Guitar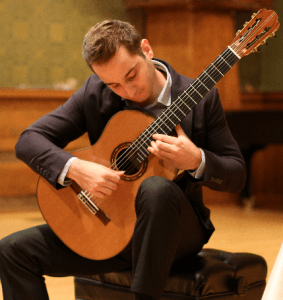 Zhivko Nikolov has a B.M. and M.M. in Guitar Performance from the Chicago College of Performing Arts­, Roosevelt University. He has been on the faculties of the Gasse School of Music and the St. Nicholas School of the Arts since 2013. He has been teaching private guitar lessons since 2006.
Zhivko Nikolov started playing classical guitar at the age of 11 with Stoyan Marinov. Nikolov's attraction to the instrument guided his choice to continue his education with music in the "Pancho Vladigerov" School of the Arts in Bourgas, Bulgaria. His first guitar teacher is still among the finest teachers in the country.
Zhivko Nikolov moved permanently to the United States in 2007, and shortly after was accepted to the Music Conservatory of Chicago College of Performing Arts at Roosevelt University where he studied under the supervision of the world re­known performer and teacher Denis Azabagic. While being part of the Music Conservatory Zhivko had the opportunity to meet and perform for several world­known artists such as: Marcin Dylla, Paul Galbraith, Elena Papandreo, Los Angeles Guitar Quartet, Nicholas Golouses, Zoran Dukic, Annielo Desiderio, Berta Rojas, Judicael Peroy, Mathew Cochran, and Eduardo Catemario.
In 2014, Mr. Nikolov had the opportunity to study Baroque Performance Practice and Transcription as a private course for one semester with the renown and knowledgeable Baroque music specialist and organist Dr. David Schrader.
In addition to his classical musical training, Nikolov continues to explore a variety of musical styles that give him broader musical perspective and stylistic approach. In 2012, he formed a clarinet­ guitar duo with which he often performs world music in various venues in Chicago.
Also, in 2014 he established a flute and guitar duo with the flutist Margarita Kozhuharova which is named "Utopia." In addition to their classical music repertoire the duo performs its own arrangements of a wide range of music genres such as jazz, bosa nova, tango, famous film music, and pop songs covers.