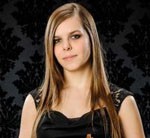 By Danielle Giulini
The best place for a beginner to buy is a music store. Normally when renting a violin, it comes with a bow. A beginner does not need a fine, expensive bow since sensitivity in "bow arm" is not high. Remember, every bow is different! And sounds different! It is best to ask an knowledgeable employee at a music store for help.
Bow sticks can be built of 3 different materials:
1. Brazilwood: Most inexpensive and appropriate for beginners (anywhere from $30-$200).
2. Pernambuco: Better quality wood used by top bow makers such as Tourte and Peccatte (famous old French bow makers). Price for the rarest ones can reach six figures.
3. Carbon-fiber: Gaining popularity due to shortage in Pernambuco wood. Price and quality varies widely. There are some great Carbon-fiber bows in the medium price range.
Things to pay attention to when picking a beginners bow: 
1. Right Length
2. Straight stick (besides the natural slight arch)
3. Appropriate weight (not too heavy/light)
4. Does not bend too easily (to the left or right)
The more advanced a player becomes, the more sensitive one gets to appropriate needs and develops better feeling for a good bow. Very advanced or professional players will purchase a bow that compliments their instrument. Some bows work better with certain violins and worse with others. To find the right fit for a mid-high level player, it can take a considerable amount of time trying different bows at many different music stores or bow maker shops.
Danielle Giulini is an AMI violin and viola instructor.  She graduated with distinction from Northern Illinois University (BA) and DePaul University (MA). Currently she is a member of Camerata Chicago and the Civic Orchestra of Chicago where she gets to collaborate with world renowned conductors and musicians such as Yo-Yo Ma.
[button font_size="24″ color="#f70404″ text_color="#ffffff" url="https://amimusic.org/register-online/" target="_self"]Sign up for Music Lessons![/button]