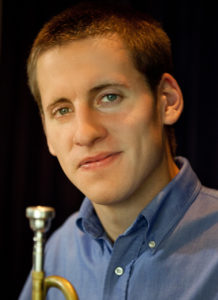 Chris Rose earned his bachelor's degree from Carnegie Mellon University and studied additionally at the Academy of Music and Drama in Gothenburg, Sweden. He has served as Assistant Principal Trumpet in the Fairbanks Symphony Orchestra and taught music in the North Star Borough School District. He has performed with orchestras in Italy, Sweden, South Korea, and around the United States, and has played jazz trumpet aboard Cunard, Crystal, and Royal Caribbean ocean liners, performing with musicians, dancers, and actors from around the world.
His travels took him most recently to Vermont as part of the Marlboro Music Festival, to Copenhagen, Denmark as a freelance artist, to South Korea as part of the Gumi International Music Festival, to New York City to perform in the Imani Winds Chamber Music Institute, and to Russia as part of the inaugural tour of Carnegie Hall's National Youth Orchestra of the United States of America.
Mr. Rose serves as Associate Editor for the Dalcroze Society of America, promoting Dalcroze Education in the United States. When he is not practicing or performing, Chris can be found in the classroom, and has been blessed to have taught music at many levels, from kindergarten through university students. He proudly worked as a Teaching Artist for the Colorado non-profit Jazz Aspen Snowmass.
[maxbutton id="2″ url="https://amimusic.org/register/register-online/" ]