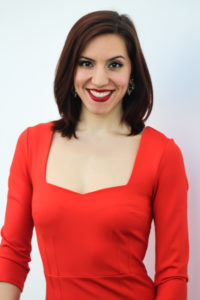 Alexandra Kassouf earned a Master of Music in voice from CCM (University of Cincinnati) and a Bachelor of Fine Arts from the University of Wisconsin-Milwaukee, where she also studied piano and dance. She has demonstrated her versatility as a performer, showing particular affinity for early music and new compositions. Recent season highlights include the roles of Sor Isabel in With Blood, With Ink (Crozier), Venus in La purpura de la Rosa (Torrejon y Velasco), and Anne Frank in Annelies (Whitbourn).
Ms. Kassouf has performed frequently with Queen City Opera and Cincinnati Chamber Opera. She was a featured soloist at the Constella festival, singing the US premiere of 3 Budapest Songs (Csanyi-Wills) and touring with a production of Libby Larsen's Stone Soup. She wrote and performed several pieces for Performance and Time Arts, a long-running performance art series, and collaborated as both a singer and a dancer on a new composition for Contemporary Dance Theater. As a member of the Opera Columbus outreach performance program, she delighted elementary school audiences in the role of Little Red Riding Hood (Little Red's Most Unusual Day) and improvised surprising rhymes for their Opera Improv.
Ms. Kassouf's teaching experience ranges from rhythm for toddlers to private piano & voice lessons for all ages. Her voice teaching philosophy puts healthy technique first and style second, focusing on breath, posture, and whole-body coordination, regardless of whether a student wants to sing pop, classical, or musical theater. She provides a fun learning environment and a safe space for expression to every student. In addition to teaching and performing, Ms. Kassouf is pursuing certification in the Alexander Technique.
[maxbutton id="2″ url="https://amimusic.org/register/register-online/" ]